Hexham Abbey's £3m regeneration plan gains more support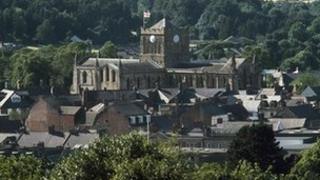 Hexham Abbey is closer to raising the cash it needs for a restoration project, thanks to a £50,000 donation.
The Hexham Abbey Project wants to develop the church and restore its 13th Century monastery complex.
An appeal was launched in March to raise £400,000, after the Heritage Lottery Fund and various other bodies donated over £2m to the project.
The Abbey's Rector, Canon Graham Usher, said he was immensely grateful for the "once-in-500-year opportunity".
Individuals and organisations have donated more than £276,000 since the launch of the appeal, and thanks to the The Wolfson Foundation's donation, the project now only needs a final £125,000 to reach the target.
"This is an incredibly generous donation and takes us a big step closer to rejuvenating our historic former monastic buildings for the benefit of the whole community.
"The support of individuals, grant-making trusts and organisations large and small across Northumberland and the UK has been truly amazing," said Canon Usher.
Hexham Abbey was originally founded by St Wilfrid in 674 AD.
The money will be used to help restore its medieval monastic buildings which adjoin the abbey.
The buildings passed through various owners before being sold to the local authority, which plans to give them back to the abbey as part of the project.
The restoration project also includes the creation of a heritage centre and community facilities within the complex.
Canon Usher said: "We now have a once-in-500-year opportunity to reclaim our medieval monastic complex and restore and redevelop it for the whole of the community... with a little more hard work and generosity we hope to be soon in sight of the finishing line."