Funds raised for Ella Chapple, five, to research sight loss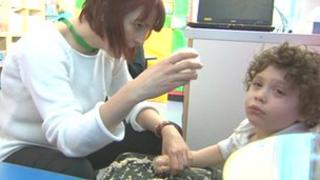 The parents of a five-year-old girl who is losing her sight because of a rare genetic disorder have raised £67,000 for research to try to find a cure.
Ella Chapple was born without irises, a condition called aniridia, which means she will eventually go blind.
Parents James and Elly, of Alnmouth, Northumberland, are raising funds for London's Moorfields Eye Hospital.
And in just a year, they have raised £67,000 which will be spent on stem cell research to try to find a cure.
Mrs Chapple, 36, said: "When we were told as parents that our child was losing her sight we didn't know how to interact or play with her at first.
"We did not know what she could see or if she could see me, it was just a very daunting time.
"I don't know what it is like to be blind or partially sighted.
"We want to make sure Ella has the best quality of life and can see as well as she can see now for as long as possible."
'Olympic athlete'
Ella attends the Northern Counties School in Jesmond, Newcastle, which helps adults and children with disabilities.
Her parents hope to eventually set up a centre for the visually impaired in north-east England.
Mr Chapple said: "Hopefully doing this research now is going to help Ella, but we are very sure it is going to help other children who have Ella's disorder from a very early age so they have much better vision."
Mrs Chapple added: "Ella has coped with things that most of us would never have to cope with in an entire lifetime.
"She has done so with pure strength of character, laughter, determination and the energy worthy of an Olympic athlete."