Kielder petrol station reopening will 'change lives'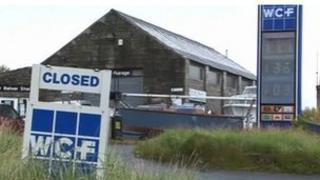 A local petrol station in Kielder Village is to reopen after shutting in 2008, leaving 180 residents with a 35-mile round trip to get fuel.
The petrol station was forced to close because of high running costs, but for the past four-years, people have fought to bring it back.
A £90,000 project will start in the new year, with the station expected to be completed by spring 2012.
Steve Webb, who runs Kielder Village Store, said it would "change lives".
Kielder Water & Forest Park said the closure led to some tourists getting "cut short" after running out of fuel and having to be rescued by police.
"This will be a major asset for villagers and tourists alike," Mr Webb said.
'Relentlessly dedicated'
"Without the efforts of Kielder Limited and Kielder Water & Forest Park Development Trust this wouldn't have happened and we would have been just another statistic, another rural business lost.
"But there was so much determination from core members who were relentlessly dedicated and to them we are incredibly thankful for making this happen."
The petrol station will be un-manned. Customers will have to pay by debit or credit card before filling up.
It will be run by local community group Kielder Limited.
Tim Grimwood, from the group, said: "It has been a long road trying to achieve our goal of reopening Kielder Petrol Station... it is very important we get this right and ensure the business is sustainable so this time round it is open for good."