Whitley Bay North Sea dippers welcome new year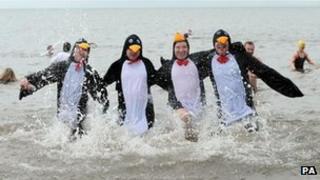 Dozens of people started the new year by taking a plunge in the North Sea.
The New Year's Day dip organised by Panama Swimming Club at Whitley Bay has become a festive tradition.
Organisers said this year marked their biggest turn-out yet with an estimated 160 people taking part, many of them in costumes.
Club member Carol Clewlow said the sea temperature was a lot warmer than last year when there was snow on the beach as the dippers went in.
A whistle was blown at 11:00 GMT to give the sign for the dippers to head towards the sea.
Ms Clewlow estimated the air temperature was about 9C or 10C (48F or 50F) with the sea temperature about 6C (43F).
She said said she thought some people would have been attracted by the milder temperatures but also by the growth in popularity of wild swimming and the event becoming better known.
She said: "It's an idea that has grown. Wild swimming is on the increase, that combined with the fact that more people know about it.
"It's a wonderful new year event.
"It was a big family occasion and there was a brilliant atmosphere."