Dogfish shark baby boom at Tynemouth aquarium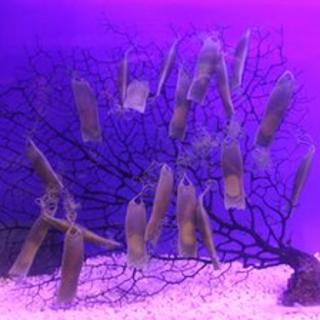 A school of baby sharks more than three times bigger than normal is growing at a Tyneside aquarium.
Thirty-four dogfish shark egg cases are being kept in specially lit tanks at Tynemouth's Blue Reef Aquarium having been moved from their usual displays.
Aquarist Christopher Harley said he normally expected about ten dogfish eggs a month in the breeding season.
He added that, since the sharks were still mating, even more eggs could be laid.
The aquarium has room for some of the young but, if most survive as expected, some will be transferred to sister aquaria as part of its group captive breeding programme.
Aquarist Lauren Lawson said: "It's fascinating to watch the tiny shark embryos developing inside their egg cases.
"As they get closer to hatching you can clearly see them starting to actively try to find a way out of the leathery eggs.
"Once they do finally emerge they are pretty much fully formed miniature versions of their parents."
Dogfish can spend a year or more developing inside the egg cases, which are usually attached to rocks, coral or seaweed by tendrils which prevent them being washed away.
The young sharks are about 10cm (4in) long when they hatch and their discarded egg cases, known as mermaids' purses, are often washed onto beaches.