Drink and drugs killed pair found dead in Consett house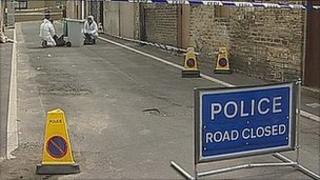 A man and woman whose bodies were found in a house in County Durham died as a result of taking a cocktail of drink and drugs, an inquest has found.
Helen Swan, 37, and James McAndrew, 52, were discovered on a sofa in the house in John Street, Blackhill, Consett, in July last year.
The inquest in Chester-le-Street heard it was first thought the friends had died from carbon monoxide poisoning.
Durham Deputy Coroner Crispin Oliver recorded verdicts of misadventure.
'To get high'
Tests showed Miss Swan and Mr McAndrew had consumed a combination of painkillers, alcohol and antidepressant medication shortly before their deaths, the inquest was told.
Pathologist Dr Mark Egan said: "Miss Swan has taken a cocktail of drugs such that each of them she could have survived, but together it would have killed me.
"People do take a cocktail of this level just to get high. Sometimes they take some more as they start to come down and begin to feel bad."
He said he was surprised that Mr McAndrew, who was "a big man in relatively good health", had also succumbed but "on the balance of probability" the combined effect of the drink and drugs had killed him too.
Det Sgt David Wilkes said there was no evidence the friends had intended to kill themselves.
Mr Oliver said: "It seems both of the deceased succumbed to the effects of, in differing degrees, the cocktail of substances they had taken.
"As a consequence I am compelled to find and enter a verdict that they died as the unintended consequence of intended actions."