Former judge Beatrice Bolton dog bite charges withdrawn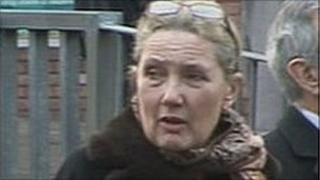 A former crown court judge from Northumberland has had dangerous dog charges against her dropped.
Beatrice Bolton, 58, was accused of having a dog dangerously out of control in a public place after a man reported he had been bitten by her German shepherd near Rothbury on 1 June.
Preston Magistrates Court was told that Ms Bolton had a mental health condition and was not fit to enter a plea.
A civil ruling was made, ordering her to keep her dog on a lead in public.
Ms Bolton, of Whitton, was also told that when she is in control of her German shepherd, Georgina, in a public place she cannot be in control of another dog.
Asked to apologise
The restrictions were imposed until 19 January 2017.
A psychiatric examination ordered by her defence team found that attending the hearing would have "a catastrophic affect on her mental health".
Ms Bolton used to sit at Newcastle Crown Court before retiring on medical grounds earlier this year, before a disciplinary inquiry into her behaviour had concluded.
She was under investigation following her conviction in December 2010 for failing to control Georgina, who attacked the 20-year-old son of her next-door neighbour.
Ms Bolton stormed out of the hearing at Carlisle Magistrates Court, and was heard to yell: "I'll never set foot in this court again."
She was later taken back into court and asked to apologise for her outburst, before being fined £2,500. She was also ordered to pay £275 compensation to the victim.