Newcastle museum awarded £250k grant for gallery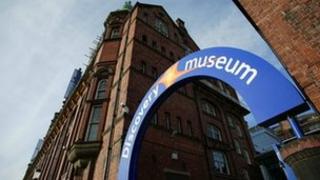 The Discovery Museum in Newcastle has been awarded a £250,000 grant to develop an interactive gallery.
The money, from the government and The Wolfson Foundation charity, will be used to tell the story of the making of modern Tyneside.
Manager Hazel Edwards, says the museum is "delighted" to be able to tell the story in a "family friendly way".
Grants totalling £4m will help improve 36 museums and galleries across the country.
The Discovery Museum's gallery will look into the memories and experiences of the people who moved to the area from the 19th Century to present day.
The grant is jointly funded by the Department for Culture, Media and Sport and The Wolfson Foundation, which awards cash to science and arts projects.
The museum will work with local communities and individuals to develop the content of the gallery which will open to the public in 2013.