Miners' Chapel of Remembrance created in Ashington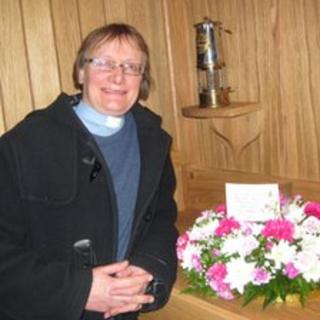 A chapel has been created inside a Northumberland church to honour those killed working down the pits.
A Miners' Chapel of Remembrance has been built inside the Holy Sepulchre Church in Ashington, known locally as the Miners' Church because of its links to the coal industry.
The oak-panelled chapel includes an altar, seating and two books of remembrance.
The books will be filled with information and memories relating to former miners and their families.
The Reverend Elizabeth Bland came up with the idea of building the little chapel when she moved to Ashington nearly four years ago.
She said: "The churchwardens showed me round and I saw the old organ which was not used.
"I thought it was just wasted space, so it began from there.
"After I'd been here a little while I suggested a chapel and the idea just took off from there."
'New future'
The church has strong connections with the region's mining heritage.
It was built 125 years ago with the help of local miners and Ashington Coal Company Ltd.
Each summer a special memorial service, including the laying of wreaths, is held there to remember those killed while working in the pits.
Although the last pit in Northumberland closed in 2005 the Reverend Elizabeth Bland believes the chapel will help the whole town face a new future without coal.
Ms Bland said: "We're hoping that it'll be a quiet space for people to come and remember loved ones.
"People can also come to the chapel just to think about the impact of coal on their lives, and what the loss of that industry has meant to the region."
The church is open every day and the chapel is now ready for people to visit.