Sunderland's Marathon of the North route is revealed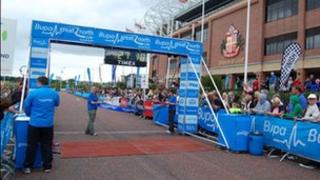 The route for the inaugural Marathon of the North that will take place in Sunderland has been revealed.
The 26.2 mile route starts and ends at the Stadium of Light, goes through the city centre and around Roker, taking in some of the city's landmarks.
The inaugural Marathon of The North will take place on Sunday, 6 May along with the second Sunderland City 10k.
Sunderland City Council will also be running events across the bank holiday weekend.
Former Olympic athlete Steve Cram is one of the organisers of the events.
He said: "We wanted to offer something for everybody, the 10k is still there if the marathon is not your bag.
"It shouldn't be that tough, It's been harder designing it than running it.
"[We want to] show the city off in a good light for people who have never been here."
Steve Cram also announced that the junior run, an under-eights race and a free entertainment event, will take place on Saturday, 5 May at the Stadium of Light.
There will be one-mile elite races on Sunday which pays homage to the anniversary of Roger Bannister breaking the four-minute mile in 1954.
Sunderland has previously played host to the Bupa Great Women's Run and the Bupa Great North 10k until it was moved to Gateshead in 2011.
Sunderland City Council, along with Steve Cram, introduced the Sunderland City 10k to replace the Great North 10k.