Houghton-le-Spring health unit cuts hospital visits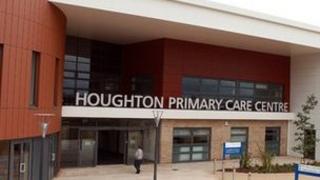 A service has been set up aimed at preventing unnecessary hospital admissions for some patients.
NHS South of Tyne and Wear has invested £1.3m per year for the service at Houghton Primary Care Centre, in Houghton-le-Spring.
It will be used by patients who need more care and support than can be provided in their homes and who would usually be admitted to hospital.
It will be run by Gateshead Healthcare NHS Foundation Trust.
The Intermediate Care Assessment and Rehabilitation Service will focus on rehabilitation and giving people skills for daily living so they can live more independently.
NHS South of Tyne and Wear director of commissioning and reform, Dr David Hambleton, said: "The unit is based at Houghton Primary Care Centre and is part of our drive to bring care closer to people's homes where appropriate and prevent unnecessary hospital admissions."