South Tyneside to trial 'lenient' traffic wardens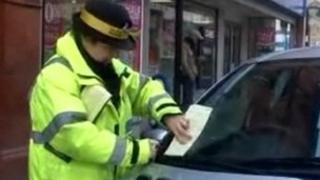 A 26-week "lenient" car parking trial has begun to gather information to design a scheme for South Tyneside.
The new parking wardens will be "more flexible" than those who operated under the last regime, says the labour-led council.
In some cases, advisory notes will be issued instead of parking tickets.
But opposition South Tyneside councillor Ahmed Khan said he believed the scheme was about generating revenue rather than "nicer wardens".
Groundwork South Tyneside and Newcastle will carry out the work for the council.
Andrew Watts, the executive director, said: "If people park on a white line and the car park is empty, then we will be taking a more lenient approach issuing them an advisory note.
"The vehicle registration will be noted, but no action will be taken.
"We want to reduce congestion, increase traffic flow across the borough and therefore we will have to take enforcement action where people park illegally because we have a duty to do that."
Opposition South Tyneside councillor Ahmed Khan thinks nothing will change.
He said: "They actually enforce the council's rules, it's the council that makes up the rules and it's the council that makes the decisions as to who and what gets enforced.
"I think it's more about generating revenue than it is about having nicer traffic wardens on the streets."