Displays mark Silksworths miners' 1891 eviction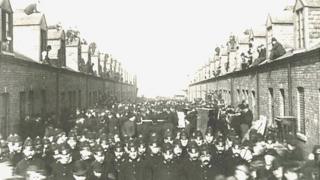 Photographs taken more than 120 years ago showing 100 striking miners' families being evicted from their homes are to go on display.
The families were ordered to leave their homes in Silksworth, Sunderland, in February 1891 by mine owner Lord Londonderry.
He was furious that his workers had been on strike for four months claiming they were treated unfavourably because they were in a union.
To bring the stalemate situation to a head, he recruited men from Hartlepool to carry out daily evictions, with a police escort, from his miners' cottages.
And although the evictions were peaceful, they were noisy as residents barricaded themselves in, banging pots and pans and singing.
There were reports of miners being carried out in their armchairs. They also tried to deter the men by sprinkling pepper on their curtains to make them sneeze and putting bricks in furniture to make them too heavy to carry.
To mark the anniversary of the event, displays are being held at Silksworth Library and Beckwith Mews on Saturday from 10:00 BST and re-enactments of the evictions at Beamish Museum during half-term week.
Michelle Ball, community engagement co-ordinator at Beamish Museum in County Durham, which is helping organise the event, said: "On hearing of the strike and failed attempts to resolve it amicably Lord Londonderry ordered the eviction of the miners.
"He recruited men from Hartlepool to do the evictions, under the false pretence of shifting timber," she said.
"These men were nicknamed 'candymen' after the rag and bone men who went around the streets collecting people's old furniture and would sometimes give sweets to children."
During the daily evictions, crowds would gather and climb on to walls and rooftops for a better vantage point.
Ms Ball added: "There was only one violent incident, started by people travelling into Silksworth from Sunderland.
"They aggravated the police by throwing stones and they retaliated with batons and several people were taken to hospital with cuts and bruises."
After losing their homes, many families stayed with friends or camped in the nearby Independent Methodist Church.
By March, both sides had reached an agreement - work resumed at the mine and families were allowed home.
The displays and re-enactments are being organised by the Silksworth Heritage Group and Beamish Museum.