Newcastle by-law call over 'charity muggers'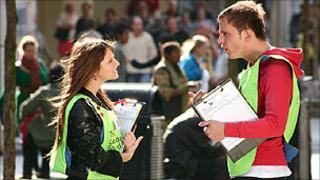 A new by-law is needed to regulate "aggressive" and "manipulative" street fundraisers, a council leader has said.
"Charity muggers" or "chuggers" stop people on the street to ask them to make a regular donation to charity.
Councillor Nick Forbes said the behaviour of some of them was putting people off visiting the city centre.
But the Public Fundraising Regulatory Association (PFRA) said it was an effective method of raising cash for charities and complaints were few.
Currently, people collecting cash on the street must have permission from the council.
However "chuggers", who often work for an agency, rather than directly for a charity, do not collect cash from people directly, so are not bound by this regulation.
Mr Forbes said: "I think that chuggers use some extremely aggressive techniques and some quite manipulative techniques as well.
"They can be very emotive about the way they present the case to people, and I think often take advantage of people's good nature."
'Loophole in law'
He said that it was possible to enter into a voluntary agreement with the regulatory body, but described its powers as limited.
"What we also want to do is to introduce a by-law which would limit the hours of operation and the times," he said.
"And of course there's a loophole in the law which means chuggers aren't bound by the same regulations as ordinary street collections.
"So we want to make sure that loophole is closed, and we'll be lobbying the government, as that would give the council the ability to say where and when they could operate."
However, the PRFA said that such fundraising brought in tens of millions of pounds each year for good causes.
Ian MacQuillan, from the PFRA, said: "There were 18,000 complaints about fundraising last year to the Fundraising Standards Board and only 485 of those were against street fundraisers."
He called for Newcastle City Council to work with his organisation, as about 40 other local authorities around the country have already done.
He said: "When we've had agreements with some town centre managers what they've told us is that complaints fall and professional standards go up.
"They ought to be trying to work with us and the established regime before they say that regime won't work."