Car collides with three people in icy conditions in Bishop Auckland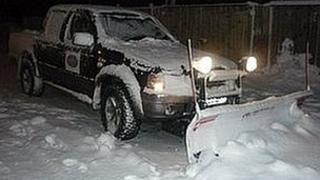 Three men were hurt when they were dragged more than 130ft (40m) by a car which skidded out of control in icy conditions in County Durham.
The incident happened on Saturday evening in Bishop Auckland, when a Ford Fiesta collided with a 19-year-old and two 18-year-olds who were walking home.
All suffered serious fractures which required surgery, Durham Police said.
The North East escaped the worst of the weekend snow disruption, but warnings of icy conditions remain in place.
The three men were treated at Darlington Memorial Hospital for multiple injuries. The 19-year-old remains in a serious condition.
The Ford Fiesta skidded into another parked car before crashing into the wall of a house. No-one else was hurt.
Metal fencing
A police spokesman said: "The incident happened on Eldon Bank when, due to the icy conditions, the Ford Fiesta, driven by a 34-year-old local woman, was unable to slow down sufficiently to avoid colliding with the three people who were walking on the nearside footpath.
"The three were then either carried on the bonnet of the car or dragged alongside before it collided with a Vauxhall Insignia which was parked on the roadside and then into metal fencing and the wall of a house."
Police described conditions at the time as "extremely icy".
Drivers have been warned to be vigilant as many roads could still be affected by ice, with temperatures forecast to stay low for several days.
There was a covering of snow almost everywhere over the weekend, with falls of up to 4ins (10cms) in some places.
There were dozens of minor collisions, but police said all major roads remain open.
The Met Office has issued a yellow alert due to the risk of ice, which will remain in force until 12:00 GMT on Monday.