Newcastle University brain bank recruits 200th member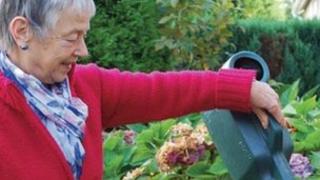 A brain bank in Newcastle has recruited its 200th donor for dementia research.
The Newcastle brain bank, one of six assessment and donation centres across the UK, recruits future donors from across the North East.
The brain bank collects tissue to help scientists working on dementia research.
Dr Chris Morris, scientific director of the Newcastle Brain Tissue Resource, described the choice of donating a brain as "a very personal decision".
He said: "Brains for Dementia Research and tissue resources like the one at Newcastle University provide scientists with the vital brain tissue they need to perform top class dementia research.
"There is still so much progress to be made in understanding and potentially curing dementia and all of this work requires donated brain tissue.
"We hope that by recruiting more donors, the tissue bank in Newcastle will continue to play a key role in finding the answers to this terrible condition for future generations."
'Devastating effect'
Anyone over the age of 65 can register to be a donor even if they do not have dementia.
Judi Pyle, 68, a retired police officer from North Shields is one of the 200 donors who will donate her brain to the Newcastle brain bank.
She learned about Brains for Dementia Research while visiting her friend who has dementia.
She said: "Everyone knows that you can donate blood, and sign up to be an organ donor, but I had absolutely no idea that you could sign up to donate your brain.
"When I read more about the project, I realised that there was absolutely no reason why I shouldn't sign up - my brain's not going to be useful to me when I'm gone so why shouldn't it be useful to someone else?
"I know the devastating effect that dementia can have on people and their families and if my donation can help to provide the answers for people in the future then I'm more than happy to do my bit.
"I wish them luck in getting to 300."