Sunderland crash pilot Andrew Cantle had controls 'taken'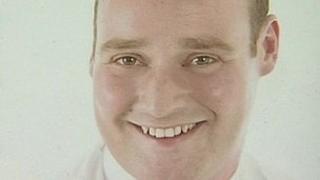 A co-pilot had the controls taken from him by a newly-promoted captain just before a plane crashed, a report shows.
The Manx2.com flight from Belfast, crashed on its third attempt to land in thick fog, at Cork Airport in the Irish Republic, last February.
Six people died, including co-pilot Andrew Cantle, 27, from Sunderland and pilot Jordi Gola Lopez.
A cockpit recording revealed Spaniard Mr Lopez took over from Mr Cantle as he struggled to land.
The interim summary on the crash, from Ireland's Air Accident Investigation Unit (AAIU), said the power levers were taken by Mr Lopez, 31, even though Mr Cantle was flying the plane.
The report said: "The cockpit voice recorder recorded the commander stating that he would handle the power during the approach; this was acknowledged by the pilot flying."
Investigators also identified problems with one of the engines of the twin turboprop plane, which could have caused an uneven thrust from either side of the aircraft.
Data from the flight recorder, taken 106 hours before the accident, also showed a mismatch between the power delivered from either side of the ill-fated Fairchild Metro 3 plane.
The report does not make it clear if this discrepancy would have created an uneven thrust.
The AAIU said it did not find any pre-accident defects identified with the engines. But in the detailed technical summary to mark 12 months since the tragedy, investigators revealed that there was a control component issue on one of the engines.
It found the No 2 engine was giving out up to 5% more power than No 1. There were also issues with the pressure and temperature sensors on No 2 engine which helped to regulate fuel control
The service between Cork and Belfast has since ended.
Manx2.com said that because the inquiry into the crash was continuing, it would be inappropriate to comment further.