Sunderland footballer Titus Bramble denies sex assaults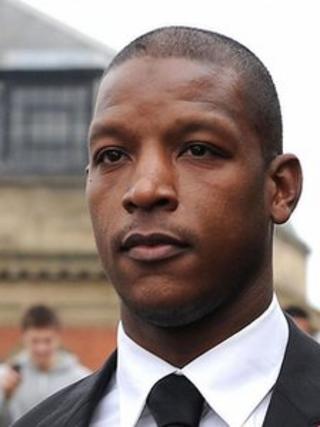 Sunderland footballer Titus Bramble has denied four sexual assault charges.
The 30-year-old is accused of indecently touching two women in separate incidents during a night out on Teesside, on 28 September last year.
The Ipswich-born defender, of Wynyard, near Middlesbrough, appeared at Teesside Crown Court.
The prosecution said Mr Bramble would face a total of four charges which all stem from the original two incidents. He will face trial, starting on 28 May.
The first charge alleges the footballer indecently touched one woman. In the second count, he is alleged to have touched another woman's leg and moved his hand towards her crotch without consent.
In the last two counts, he is accused of twice placing her hand on his crotch.
At a plea and directions hearing, Mr Bramble spoke in a clear voice to say "not guilty" after each count was put to him.
The recorder of Middlesbrough, Judge Peter Fox, adjourned the case until the trial in May.
Mr Bramble was granted unconditional bail.
He started his career at Ipswich Town and also played for Newcastle United and Wigan Athletic before signing for Sunderland.