Family sue over Sunderland co-pilot's Cork plane crash death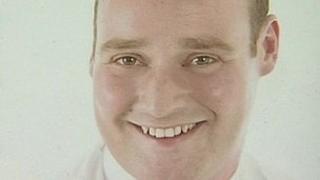 The girlfriend and parents of a co-pilot killed in a plane crash last February are suing two companies involved in running the flight.
The Manx2.com flight from Belfast, crashed on its third attempt to land in thick fog, at Cork Airport in the Irish Republic.
Andrew Cantle, 27, from Sunderland, had just started his first airline job when he died in the crash.
His partner, Beth Webster, said the family had suffered "severe trauma".
Six people, including newly-promoted Spanish captain Jordi Gola Lopez, 31, died and six others were injured in the crash.
'Struggle to cope'
Ms Webster said: "Since the accident my life has been a living nightmare.
"Andy and I had a bright and promising future together and now I struggle to cope with life without him.
"My friends and family continue to help me through this ordeal," she said.
The lawsuit is against FlightlineBCN, which was granted the Air Operator Certificate to run the service, and Airlada, which leased the plane and crew.
Lawyers claim the accident was "avoidable" and that Ms Webster and Mr Cantle's family suffered "severe trauma" after the crash.
They are also claiming a possible seven-figure sum for financial loss from her partner's likely 30-year career.
Mr Cantle's father, John, said: "Andrew was a brilliant son, brilliant brother, brilliant pilot and aviator who touched his dream.
"We cannot bring back what we have lost but if this stops other families going through what we have had to this year and in future years then at least a part of Andrew will be remembered."
The Republic of Ireland's Air Accident Investigation Unit has released an interim report on the crash.
It said it could not yet issue a final report on what caused the crash but the interim report gives more detail on the operation of the plane's engines.