South Tyneside river flood defence work begins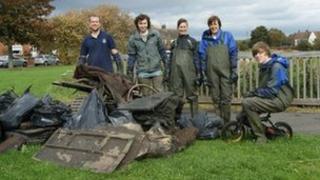 Work has begun to improve flood defences and protect homes in South Tyneside.
The Environment Agency is reprofiling the flood bank of the River Don at Reay Crescent, Boldon Colliery, and removing 11 trees that are growing on it.
The agency said the trees' roots could weaken the flood banks and put 10 homes at the site at risk.
A spokesman said the improvements, costing £58,000, would be completed in about four weeks.
The area is a habitat for water voles, so a biodiversity specialist will be on site permanently during the works to ensure no harm comes to the animals.
Work will involve one corner of the flood bank being improved and the existing flood bank being levelled and widened in places.
The new drain will discharge into the river.
Community work
Simon Eadington, project manager for the Environment Agency, said: "We are doing this maintenance work to protect residents from flooding.
"The trees currently growing on the flood bank could be making it unstable, increasing the flood risk to local properties."
The Living Waterways project, which is a joint scheme between the Environment Agency and Durham Wildlife Trust, are also working to create a backwater pond on the river.
The £19,079 funding awarded by the Local Environmental Action Fund, will provide a pond linked directly to the river, giving wildlife in the area a valuable habitat.
The local community have been involved in the design of the scheme, and work is expected to be completed by March.
Michael Rodgers, project manager, said: "The response of the local community to the project has been fantastic... showing just how much interest there is in the wildlife that inhabits the River Don and how it can be enjoyed by all."