Stanhope Ford permanent closure recommended by inquiry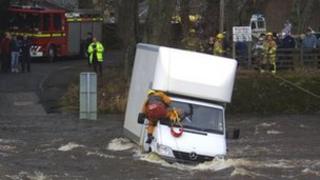 The permanent closure of Stanhope Ford in County Durham has been recommended following a public inquiry.
The road crossing through the River Wear was closed by police under emergency powers in 2008 after stranded motorists had to be rescued.
The inquiry concluded that public safety benefits of making an order to close the ford outweigh the objections which were raised.
The final decision is expected to be made by the council on 21 February.
Cabinet member for the environment Bob Young said: "The proposal to permanently close Stanhope Ford to traffic is clearly an issue which divides opinion.
"As a council we have a duty to ensure the safety of all road users, including those using Stanhope Ford, and we will consider this, along with the recommendation from the inquiry, when we make a final decision on the ford's future."
Public safety
The inquiry heard that during the summer months, April to September, between 2001 and 2008 a vehicle needed rescuing, on average, once every four months - causing a risk to both the occupants and those called out to rescue them.
Evidence also showed that changes in the water levels can happen quickly and without warning at any time of year.
The inquiry considered possible alternative courses of action but none of the alternatives put forward would result in improved public safety and, in some cases, would be unworkable.
The overall conclusion of the inquiry was that, on balance, the public safety benefits of making an order to close the ford outweighed the objections which were raised.