Memorial flag trek to Mount Everest Base Camp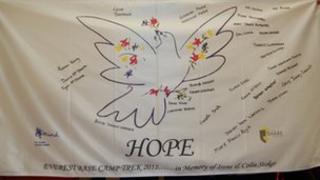 A man from Wearside is trekking to Everest Base Camp in memory of his wife and son, who both took their own lives.
Gary Stoker, from Washington, will be carrying a special flag signed by other people who have lost loved ones after taking their own lives.
Mr Stoker is hoping to raise awareness and money for two charities, Mind's Young People's Project and the If U Care Share Foundation (IUCSF).
He is welcoming families who have lost people through suicide to come forward and sign the flag before he takes it to Everest Base Camp.
Mr Stoker's son Colin had bipolar disorder and took his own life the day before his 18th birthday.
'Difficult times'
His wife Irene started to show signs that the pressure of losing their son was getting too much and she also took her own life.
"I honestly believe if we didn't experience those difficult times Irene would be fit and well today," Mr Stoker said.
"It shows you when people are put in intense pressure, it can result in some form of health problem coming to the surface."
Mr Stoker will travel to Nepal and take the flag which depicts a Picasso sketch of a bird.
"It's done in tremendous pride and honour," he said.
"Because other people have latched on to the theme, it's given me a great honour to do it for their lost family members."
"Hopefully it will gain a lot of comfort for other people as well."
Mr Stoker will set off on his Everest trek to Nepal on 28 March.