Man found in burning Blyth flat named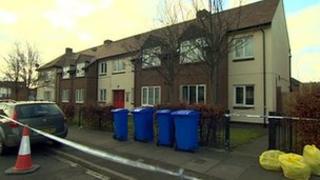 A 40-year-old man whose body was found in a burning flat in Northumberland has been named.
Jason James Lockwood was discovered in his flat in Nordale House, in Blyth, on Tuesday morning when police and firefighters were called.
Police arrested two men on Wednesday, aged 23 and 28, on suspicion of murder.
Police are pieceing together Mr Lockwood's final hours and are appealing for anybody with information to come forward.
DCI Ian Bentham, who is leading the investigation, said Mr Lockwood was "brutally murdered in his own home".
He said: "I believe there is further evidence out there that could be crucial to this investigation so I would urge anyone who knows anything or has heard anything to help us bring Jason Lockwood's killers to justice."
Detectives are working to piece together information about Mr Lockwood's lifestyle and the events that led to his death.
Mr Bentham said: "We know that he battled an alcohol problem and was unable to hold down a job.
"But although he was a solitary figure we believe he did have some friends in the area and we are urging people who knew him to help us establish the circumstances of his final hours."
The cause of death has not yet been released.