Revamped Cullercoats Metro machines accept debit cards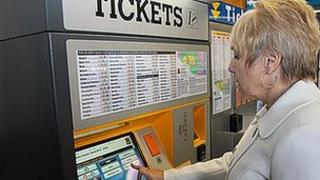 Passengers travelling from a North Tyneside Metro station can now use notes and credit cards to buy tickets.
New machines have been installed at Cullercoats as part of a £385m network revamp taking place over the next 11 years.
Metro owner Nexus is spending £25m on upgrading machines, which currently only accept coins.
So far the machines have been installed at eight stations, including Byker and Four Lane Ends in Newcastle.
The new machines can accept credit and debit card payment and notes, as well as coins, and have touch-screen technology available in six different languages.
More than 120 staff have been trained to help passengers use the new machines, which will be installed at the network's 60 stations over the next 12 months.