Nicklas Bendtner given driving ban for speeding at 103mph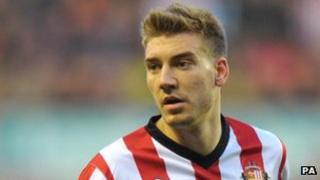 Sunderland footballer Nicklas Bendtner has been banned from driving for 56 days and fined £660 after he was caught speeding in his Porsche.
The 24-year-old striker was clocked at 103mph on the Woolsington bypass, near Newcastle Airport, in December.
Newcastle magistrates were told he was on his way to the airport and was late for a flight.
The player, who is on loan from Arsenal, was not in court. He had earlier admitted speeding.
The Danish international striker was recorded doing 103.6mph for a distance of 0.137 miles by a police Vascar system installed in a patrol car.
The court was told the player was in Denmark for "contractual obligations" and was deemed to not be absent from court because he was legally represented at the hearing.
'No trouble'
Barry Warburton, defending, said: "I understand he was going to Newcastle Airport, he was slightly late for a flight and unfortunately he speeded.
"It was a Saturday morning, there was very little traffic on the road and weather conditions were fine.
"Not withstanding the fact he is in Denmark, he has been absolutely no trouble to anybody. In my respectful submission, your public duty can be discharged by treating him with leniency."
The solicitor said his client had "substantial" disposable income and could pay the fine immediately with a credit card.
Chairman of the bench Edward Wardrobe imposed the 56-day driving ban, and fined the footballer £660, plus £30 costs and a £15 victim surcharge.
No penalty points were added to the three Bendtner has on his licence.