London 2012: Durham University sports complex opens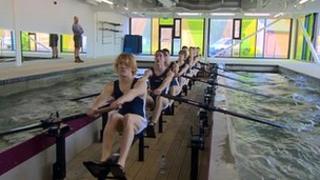 A £6.7m sports complex, which is set to be used by Olympic and Paralympic hopefuls, has opened in Durham.
The complex, which expands existing facilities at Durham University's Maiden Castle site, was opened by Sport and Olympics Minister Hugh Robertson.
Among the features is a powered indoor rowing tank, one of three in the UK and the first in north-east England.
It will also play host to the Sri Lankan Olympic badminton team for training prior to the London Olympics.
Other features include an extended sports hall which can be used for indoor cricket, three dedicated physiotherapy treatment rooms and a multi-purpose dance studio.
Vice-Chancellor of Durham University, Prof Chris Higgins, said: "We are immensely proud to be able to contribute to the sporting legacy of the Olympics 2012 through the opening of these new facilities."
Mr Robertson added: "Durham University has a strong sporting tradition and this new state-of-the-art centre will help confirm this in the years ahead.
"This fantastic facility will provide world-class sports facilities for elite athletes and community users alike and help more people to take up sport."
Sport England contributed £500,000 to the cost of the complex, which will also be available for use by students and the public.