MPs sign motion 'condemning' renaming of St James' Park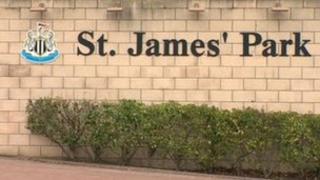 Twelve MPs are appealing for Newcastle United to reconsider their decision to change the name of St James' Park, calling it "corporate vandalism".
The group signed a Commons motion, condemning the change of name in favour of the Sports Direct Arena.
It says it "deeply regrets" the decision to rebrand the ground and are urging the club to think again.
The club said the change was temporary, hoping it would "showcase" sponsorship opportunities to "interested parties".
The St James' Park signs were removed last week, but graffiti has been sprayed back onto the wall of the stadium twice, in separate instances.
David Anderson, Labour MP for Blaydon, said the club's decision was an "insult" to supporters and "disrespectful" to the region.
"They've got no interest whatsoever in the ordinary football fan," he said.
"They are ignoring the people who have made this the club what it is, who spent more than 100 years building this club up into an icon for our region.
"It is total disrespect for the history and culture of our region."
The motion has been signed by Labour MPs Ian Mearns, Pat Glass, Catherine McKinnell, Chi Onwurah, Nick Brown, Ian Lavery, Dennis Skinner, David Anderson, Mary Glindon, Stephen Hepburn, Alex Cunningham and Sir Alan Meale.
When the club announced the name change last November - Sports Direct is the company of club owner Mike Ashley - Newcastle United fans labelled it a "disgrace", with most refusing to use the new name.
Newcastle City Council backed fans and asked local media organisations not to recognise the Sports Direct Arena name.
The authority has also agreed a motion, stating it has no plans to change any direction signs which bear the name St James' Park.
The club has not commented on the motion by MPs.