Twin toddlers injured in Sunderland motorcycle crash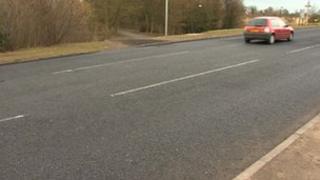 An 18-month-old girl is in a critical condition in hospital after a motorbike crashed into her mother and twin brother in Sunderland.
The 26-year-old woman was crossing City Way with a pushchair containing both toddlers when the incident happened shortly before 10:00 GMT on Wednesday.
They were taken to Sunderland Royal Hospital but the girl was moved to Newcastle's Royal Victoria Infirmary.
The male rider of the motorbike, 30, was not seriously hurt.
Family support
A Northumbria force spokesman said: "We are carrying out inquiries to establish exactly what happened and the road was closed while an initial investigation took place.
"Officers are also informing next of kin and providing support to family members."
A spokesman for Sunderland Royal Hospital added: "One child has suffered serious injuries and the other has been admitted for observation, but is stable.
"One adult has been treated and discharged and the other adult has been admitted for observation.
"This is obviously a difficult time for the families of those involved in the incident, but we would like to commend the ambulance crew, the team in A&E and clinicians from other parts of the hospital who responded quickly."
Police have appealed for witnesses.