Work to remove bollards from the River Tyne begins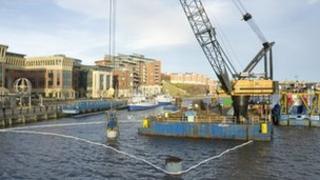 Work to remove 14 bollards which have skirted Gateshead's Millennium Bridge for the past decade has begun.
The grey stiles were not part of the bridge's original design, but installed to protect vessels on the River Tyne from colliding with the bridge.
But they have always been unpopular, with people saying they were ugly, unnecessary and spoiled the view.
Gateshead councillor John McElroy, said it would be a "popular move". The work is expected to finish the end of March.
A giant floating crane completed the preparation work on Thursday afternoon and the first bollard was removed on Friday morning.
When they have all been removed, they will be replaced with navigation lights.
Mr McElroy said: "Many visitors have commented over the years that the bollards detract from the elegance of the bridge, but we've been committed to retaining them in the interests of river safety.
"Now that we have established that their removal will not now present a major risk to river traffic, we have taken the decision to remove them and we think many people will be pleased with that decision.
"Their removal will mean that the bridge will appear, for the very first time, the way it's designer originally intended."