Number 13 ban mooted for new houses in County Durham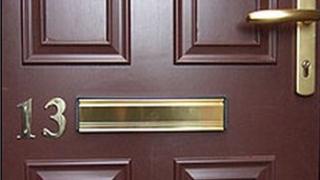 The exclusion of the number 13 from streets in County Durham is being considered by the county council.
It is part of proposals which would also encourage locally or historically significant street names.
The guidelines will apply to new developments as well as new-build and converted homes in existing streets.
Strategic highways manager Dave Wilcox said they reflected "the concerns of housing developers who often struggle to sell homes located on plot 13".
He added: "There have also been occasions in the past where the council has been asked to re-number a property as 12a rather than 13 by developers or homeowners."
The council took over the statutory duty for the naming and numbering of streets across the county from the seven former district and borough councils after the formation of the unitary authority in 2009.
Mr Wilcox said most of those councils did not allocate the number 13.
The draft Street Naming and Numbering Policy will be discussed by the council's cabinet on 7 March.