Protest against Gateshead Council plan to cut 350 jobs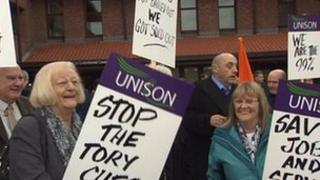 More than a hundred public sector workers have gathered outside Gateshead Civic Centre to protest about proposed job cuts.
Councillors are meeting to agree budget cuts of £22m over the next financial year, which will lead to the loss of 350 posts.
The Labour-run authority, which employs about 9,000 staff, said some of the redundancies could be compulsory.
It came up with new budget plans after a wide-ranging public consultation.
Leader of Gateshead Council, Mick Henry, said: "We are doing all we can to be fair, protecting the most vulnerable in our community and reducing the impact on frontline services that people rely on.
"Regrettably, these cuts mean that more jobs will be lost but we're doing all we can to avoid compulsory redundancies wherever possible."
Speaking at the demonstration, Terry Edwards, from Unison, said: "We think the government should fund public sector workers, and fully protect the community by funding public sector jobs."