David Rathband death: PC blinded by Moat found hanged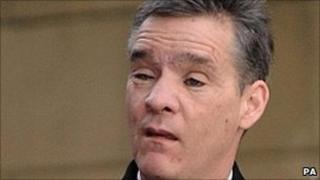 David Rathband, the police officer who was shot and blinded by Raoul Moat, was found hanged, a coroner has heard.
The body of PC Rathband was found by police at his home in Blyth, Northumberland, on Wednesday night.
Officers broke into the 44-year-old's home through a back patio door after fears were raised for his wellbeing.
In July 2010, the PC was shot twice by Moat as he sat in his patrol car in Newcastle. It came a day after Moat had shot two other people, one fatally.
The inquest in Blyth heard that one of the officers who broke into PC Rathband's house found him hanging from the banisters.
'Sad occasion'
Retired Northumbria Police traffic officer Keith Lamb, who was a former colleague of PC Rathband, told the inquest he identified his body at Wansbeck District Hospital.
South Northumberland Coroner Eric Armstrong said: "This is a sad occasion for the family of PC Rathband and for all his former colleagues and those who knew him."
Home Office pathologist Dr Nigel Cooper said the cause of death was pressure on the neck due to hanging. The inquest was adjourned.
On Thursday, Northumbria Police said they had spoken to PC Rathband last week after concerns were raised about his mental state.
The force said officers had spoken to him over concerns raised about his Twitter posts and had been reassured by him that he was OK.
Following news of his death, many people paid tribute to PC Rathband including Prime Minister David Cameron, former Home Secretary David Blunkett and Northumbria Police Chief Constable Sue Sim.
PC Rathband was unarmed when he was shot by Moat.
A day earlier, in Birtley, Gateshead, Moat had shot and injured his ex-girlfriend Samantha Stobbart, 22, and killed her boyfriend 29-year-old Chris Brown.
Moat was on the run for a week before shooting himself during a stand-off with police.
PC Rathband lost his sight and was fitted with prosthetic eyes.
He was hailed for his charity work in the wake of his injuries after starting the Blue Lamp Foundation to help emergency service staff injured in the line of duty.