Majority of fans at Newcastle-Sunderland match praised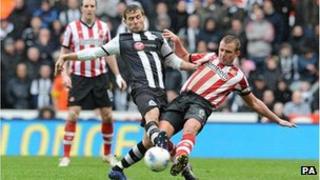 Police praised the majority of the thousands of fans who attended the Tyne-Wear football derby.
Sunderland went to Newcastle for the midday kick-off, with the match ending 1-1.
Northumbria Police had a "substantial" presence at the ground for the 52,000 sell out match.
They said the majority of fans were in good spirits but some damaged a Metro train and there had been 18 arrests.
Police said on one Metro train, which was put on specially for the game, a window was pushed out, emergency cords were pulled and the roof damaged. It caused delays on the service.
'Mainly good natured'
The 18 arrests included two on suspicion of assault, two for breaching banning orders and one for going into the playing area. The other arrests were for alcohol-related offences.
Northumbria Police Assistant Chief Constable Steve Ashman said: "This type of behaviour will not be tolerated and those responsible should be aware their actions could have serious consequences and potentially affect future ticket allocation.
"Public safety is always our number one priority during any football match and this means any individual or groups causing trouble will be dealt with.
"The crowd was mainly good natured and only interested in the action on the pitch and we'd like to thank them for their behaviour. Those who did cause trouble should be warned we will be carrying out extensive inquiries to identify them."
Northumbria Police had extra officers on duty before, during and after the game.
A fleet of coaches was organised by Sunderland Football Club to take fans to and from Newcastle.
It was the second time the teams have met this season after Newcastle won 1-0 at the Stadium of Light in August.