Newcastle United stadium Sports Direct advert damage probed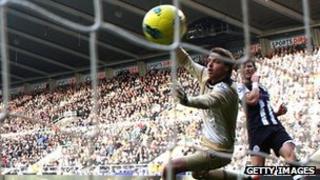 Police are investigating reports that Newcastle United fans tore down adverts at the club's stadium.
Northumbria Police confirmed they were examining allegations of criminal damage during Thursday night's reserve match between Newcastle and Sunderland.
Many Newcastle fans have been unhappy at the club officially changing the stadium's name from St James' Park to the Sports Direct Arena.
Footage on YouTube appeared to show Sports Direct adverts being torn down.
The match was played in front of a crowd of nearly 3,000 fans.
'Sponsorship opportunity'
A tweet on Sunderland's official Twitter feed read: "Newcastle fans are tearing down the Sports Direct signs around the ground and throwing them onto the pitch."
The referee stopped play and the players took a drinks break as officials cleared the pitch and restored order before the game resumed.
A police spokesman said: "At 9.46pm Northumbria Police were made aware of damage to signage within the Newcastle United stadium in Newcastle.
"Police are making inquiries to ascertain who caused the damage."
Newcastle United owner Mike Ashley announced in November that the stadium, built in 1892, would be renamed after Mr Ashley's sports goods company.
The club said the change was a temporary measure to "showcase" the sponsorship opportunity to "interested parties" and said the name St James' Park was not "commercially attractive".
Fan in court
Signs in and outside the ground bearing the traditional name were removed, with a well-known sign outside the stadium finally taken down in February.
Within hours the words "St James" had been painted on the wall in its place.
Michael Atkinson, 30, of Newbiggin Hall, admitted painting the words and pleaded guilty to criminal damage earlier this week at Newcastle Magistrates' Court.
He was given a conditional discharge and told to pay £100 towards the clean-up costs but fellow Newcastle fans have offered to pay on his behalf. The club has banned him from attending games.
Other supporters' protests since the name change have included a mock funeral for the club before the match against Wolves last month, with fans carrying a coffin painted with black and white stripes - the club's colours - around the stadium.