PC David Rathband memorial: More than 800 people expected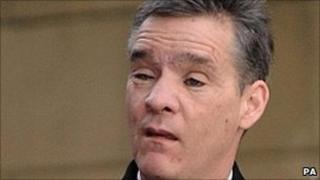 More than 800 people are expected to attend the memorial service to celebrate the life of PC David Rathband in Newcastle.
PC Rathband, 44, who was shot and blinded by Raoul Moat in 2010, was found hanged at his home in Blyth, Northumberland, on 29 February.
The public service is at St Nicholas Cathedral at 12:00 GMT on Saturday.
The cathedral said it was expecting about 800 people inside, with mourners also lining the streets outside.
Members of the public, politicians and senior dignitaries are invited to attend.
A sound system will enable those outside the cathedral to hear the full service.
'Tremendous strength'
PC Rathband's widow Kath said she will not be at the service on Saturday, but will be attending his funeral in Stafford on 17 March.
She is also taking part in the public police memorial service on 19 March, also at St Nicholas Cathedral.
She said: "I would like to take this opportunity to thank Northumbria Police for the care and support they have given and continue to give to myself, Ash and Mia during this incredibly difficult time.
"I'd also like to thank all the wellwishers for their kind words, from which I have gained tremendous strength.
"Family, friends and colleagues can gather to celebrate the many happy memories we all have of the 12 years spent as a family in the North East of England.
"In these extremely difficult times for myself and our children, we want to be able to grieve in private and out of the media spotlight and we request that everyone respects this."
PC Rathband was shot twice by Moat while sitting unarmed in his patrol car in July 2010.