First memorial service for 'Hero' PC Rathband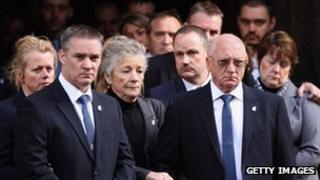 The first of three memorials for PC David Rathband has taken place at St Nicholas Cathedral, Newcastle.
The humanist service, organised by identical twin, Darren, was open to those members of the public who wanted to pay their respects to the police officer who was found dead at his home on 29 February.
It was attended by the officer's children and many of his friends and police colleagues.
More than 500 people paid their respects, and after the service many lined the streets outside to applaud as the hearse pulled away.
The service was led by The Very Reverend Chris Dalliston, Dean of Newcastle and then celebrated by Humanist Carly Fee.
Mrs Fee shared the family's stories of PC Rathband's younger years as part of the "Terrible Twins" with his brother.
Mourners were encouraged to celebrate the life he had lived before he was attacked by gunman Raoul Moat, who left him blind on 4 July, 2010.
'Time to take David home'
Contributions came from Jos Forester-Melville, who met PC Rathband at the scene of a road traffic accident, and shared her story about being "touched by the kindness of an ordinary man".
She broke down in tears twice whilst talking about how "special" he had been in her life.
She was followed by Steve White, who ran the London marathon with PC Rathband, said he "always remained upbeat" and was the first person to welcome Mr White and his family to the area and had remained a close friend ever since.
Others paying their respects included Tony Horne, the ghost writer of PC Rathband's biography, Tango 190, and singer Bonnie Shaw who performed Time to Say Goodbye.
But the final words were left to Darren Rathband, who thanked the people who had supported his brother, a man he described as his "hero".
He said: "I have lost half of me, you don't get over it, you get through it." He finished by saying it was "time to take David home".
With those words the coffin was carried down the aisle in procession, whilst Boyzone's If Tomorrow Never Comes played.
Hazel Miller, from Gateshead, said she did not know PC Rathband personally but attended the service which she described as "lovely", with her husband Ian Miller.
Mr Miller said: "We were all touched by him. He did a good job. He was a policeman, he didn't deserve what happened. You you can see by the turnout of people here today."
Sue Sim, Chief Constable, Northumbria Police said: "I was proud he was one of my police officers.
"He was gunned down in tragic circumstances doing the job he loved. He will be sadly lost by myself, my colleagues, my communities.
"My heart goes out to Kath, the children and the rest of the family."
Nick Herbert, minister of state for policing and criminal justice who had met the officer, said: "I could not have been more impressed by his courage and dignity and that's what we've just heard about today in a moving service which not only remembered his life but also celebrated it.
"It was a reminder to us, not only of the sacrifice that he paid, but also of what all police officers do for the country in stepping out every day and in taking a risk on behalf of us, the public."