Homes targeted over Tyne and Wear Metro safety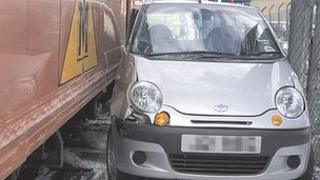 Thousands of homes within a mile of level crossings on the Tyne and Wear Metro network are being targeted in a safety campaign.
More than 28,000 homes are receiving leaflets highlighting key guidelines for drivers and pedestrians.
There has not been an incident involving a car on the network's crossings since June 2010, but bosses insist safety messages remain vital.
Schools nearest crossings are also being targeted in the campaign.
Mike Bennett, level crossings manager for Nexus, which owns the light railway network, said: "We want drivers and pedestrians to use Metro level crossings correctly and safely at all times.
"This new campaign spells out the safety messages very clearly and will reach almost 30,000 households.
"Although we haven't seen a collision for nearly two years we want to raise safety awareness in order to reduce crossing misuse that always carries that risk of a serious accident taking place.
"A train cannot swerve to avoid a car or a person. The public need to be alert when approaching a level crossing. By staying alert you will stay safe."
The level crossings on the Metro system are open and do not have barriers or gates. They are also protected by flashing red "stop" signals and audible alarms.
Nexus said it had no plans to put barriers at any of the crossings, but said cameras would be installed to deter motorists from running red lights.