Road reopens after South Shields pub collapse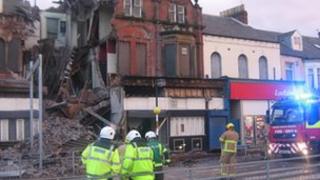 A road in South Shields has reopened a week after it had to be closed when a derelict bar collapsed.
Emergency crews were called to Bizz Bar in Ocean Road just after 17:30 GMT on Friday 9 March when the three-storey building caved in to the road.
Part of the road between Anderson Street and Roman Road was cordoned off to knock down the building and clear the rubble.
Police said no-one was inside the bar when it collapsed.
Nearby Marine Park Children's Centre, which has also been closed since the collapse, will reopen on Monday.