Pilot injured in Northumberland light aircraft crash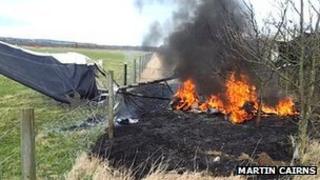 A man was injured when a light aircraft took off on its own then crashed in a field in Northumberland.
The incident happened near Eshott Airfield in Bockenfield.
The airfield's owner said the novice pilot was running the engine of a microlight when it began to move unexpectedly.
He jumped out, and with no-one on board, it went some way into the air, looped the loop and crashed down in the field, where it burst into flames.
The pilot suffered an ankle injury but he is not thought to be seriously hurt.