Five Ring Circus troupe celebrates Cultural Olympiad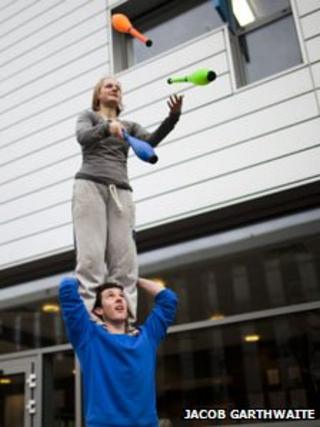 If you are flying through the air, hoping the man standing next to you will catch you, trust is important.
Hollie Johnson trusts Lee Tinnion. She has to - he is her boyfriend and also her circus partner.
When she is standing on his shoulders, juggling, he is the only thing between her and the cold, hard concrete.
They have a background infree runningandparkour, a type of free running, and have been picked to join a circus troupe which will perform around the north-east of England as part of the London 2012 Cultural Olympiad.
After years running through the urban landscape, leaping between man-made obstacles, 21-year-old Mr Tinnion said he believed circus was the obvious next step.
"It seemed like a natural progression of what I was already doing. It seems to have variety that I hadn't come across in other sports," he said.
That variety includes juggling, acrobatics, acrobalance, unicycling, high wire and more.
Neither performer are very worried about falling and hurting themselves, though Miss Johnson said she admitted to having a greater appreciation of the risks now she is 20.
"When I first started I had far less fear than I have now," she said.
"I was 13, so I was quite young and a little bit reckless."
Mr Tinnion said he believed repetition was the answer.
"I've always likened it to people crossing a busy road," he said.
"There's always the risk that you might trip over and potentially get run over by a car, but you have that confidence that you can cross the road without tripping over, so you do it.
"It's just the same, perhaps a slightly different scale, that if you practise these things lots then it doesn't worry you as much anymore."
'Anything daft'
He said his mother used to worry about him, when he started doing parkour, but he said she was less concerned about his circus performances.
"I wouldn't say she tried to stop me, she just told me to be careful," he said.
"She realised quite quickly that I had my head screwed on and I wasn't going to do anything daft."
The pair are maths students at Newcastle University but neither said they saw their futures in the subject.
Miss Johnson said she anticipated the subject leading to an office job, which she did not want, being someone more used to running around city centres, jumping from street furniture on to walls.
'Pointy toes'
For Miss Johnson, training with the Five Rings Circus troupe will be a chance to perfect circus skills like aerial work, at which she says she is "absolutely hopeless".
She said that while parkour was more about power and the capabilities of the individual, circus was more technical, with "pointy toes".
"In parkour I've never got that on my mind about how to perform it, I'm just thinking about doing it," she said.
"Whereas in circus there's always an element of how would you perform this skill."
The troupe has been recruited by Five Ring Circus, which runs circus clubs in Newcastle, North Tyneside and Stockton.
They already have shows planned at events in Newcastle, Northumberland and at Stockton International Riverside Festival.
Project director Helen Averley said: "Circus has got a great big range of activities.
"We can bring a little bit of the Olympiad right to a very, very local area and I think that's what we like the idea of, bringing something like that to unexpected places."