North East sports fields in £645,830 Olympic windfall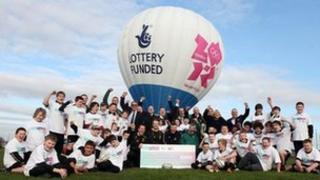 A rugby club in North Tyneside is getting its first ever permanent home thanks to £50,000 of funding.
Wallsend Rugby Football Club (RFC) has always had to train and play across two sites, but now, thanks to the funding, it will get two of its own pitches.
Chairman Ryan Thirlaway, said the money would make a "huge difference" to the club.
The funding is part of a share of £645,830 of Olympic legacy funding from Sport England across the North East.
The £50,000 will help convert the land next to St Peter's Road into two high quality pitches, which will be protected and maintained for at least 25 years.
North Tyneside Council is also helping the club by providing £86,000 towards the project, as well as leasing the land to the them.
Mr Thirlaway said: "This is an exciting and pivotal time for us and we are very grateful for the support we are receiving, both financial and in terms of people's time - many of those involved with this project are volunteers.
"As a club we have always been known as a magpie, having had to use other pitches and facilities, so this development is a major one for us and will make a huge difference to the lives of local children for many years to come."
'Sporting enjoyment'
Six projects across County Durham, Tyneside and Northumberland are also benefiting from the funding, which will see their playing fields given a new lease of life.
Embleton Cricket and Football Club have been awarded £29,030 to improve the drainage at the only outdoor playing field space in the village.
Joseph Swan Academy in Gateshead will use its £50,000 to improve the drainage of its pitches, which are prone to flooding.
The National Lottery funding comes from the latest round of Sport England's Protecting Playing Fields fund, which works to safeguard playing fields across the UK.
Sport England's chair, Richard Lewis, said: "These investments will transform the local pitches where many young people have their first experience of sport."