Son jailed for hammer murder of Francis Willis in Gateshead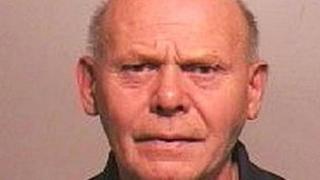 A Tyneside man has been jailed for life for murdering his elderly father and burying his dismembered body beneath a patio.
Francis Willis, 62, used a hammer to kill his 88-year-old father, also called Francis Willis, after a row over cigarettes at their Gateshead home.
Newcastle Crown Court heard he used a chainsaw to cut up the corpse last August.
Willis was told he would serve a minimum of 17 years.
The court heard Mr Willis Snr had been buried in four industrial bin bags beneath newly-laid flagstones.
His son told police investigating the pensioner's disappearance that his father was on holiday.
Concerned neighbours
He also told them "you won't have to look there" when they searched the rear garden, where a patio had been built, at the home the men shared in the Carr Hill area of Leam Lane, Gateshead.
Jailing him, Mr Justice Clarke said the way he had treated the body had been "an insult to the dead".
Police began investigating after neighbours became concerned when they had not seen Mr Willis Snr for some time.
Willis Jnr, who had lived with his father since his brother's death five years earlier, told police and locals that his father had been on holiday to Great Yarmouth and then went on to visit friends in Doncaster.
Mark Giuliani, prosecuting, said the pensioner had been battered to death in an attack of "horrific ferocity".
The men had argued about the financial contribution that Willis Jnr, who had debt problems, was making to the house and about him smoking his father's cigarettes.
Forensic investigators found blood spattered on the walls, ceiling and furniture of Mr Willis Snr's bedroom, where was killed.
Bloodstained slippers
Willis then bought paint, a knife, a shovel, weedkiller, builder's aggregate and a chainsaw in an "ill-conceived and morbid attempt" to conceal his crime.
He even enlisted the help of a neighbour to dig a hole in the back garden which he later used for his father's body.
Investigators found blood and tissue covering the teeth of the chainsaw and on the hammer, which had been hidden in the garden shed.
They also found a pair of bloodstained slippers and a walking stick in the garden.
In the days following the murder, Willis Jnr withdraw more than £2,500 from his father's bank accounts.
Jamie Hill, defending, said Willis Jnr had lashed out in anger, then panicked when he realised what he had done.
He said the crime was not motivated by money.
The court heard Willis Jnr had a previous conviction for arson.
After the hearing, senior investigating officer Det Ch Insp Andy Potts, of Northumbria Police, said: "My thoughts have been with Mr Willis Snr's family throughout this investigation.
"This has been a difficult ordeal and has had a devastating impact on them. This was a very distressing case for the family who continue to come to terms with what has happened.
"I would like to thank them for their support during the investigation which has helped to achieve this conviction. My sympathies continue to rest with the family at this difficult time."