County Durham residents offered 'greasy' thief deterrent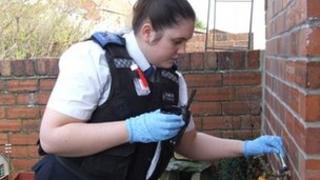 Residents in County Durham are being offered a new security method to catch thieves trying to steal from their property.
Durham Police are encouraging residents in Ferryhill to use tubs of a dark gel called SelectaDNA marking grease.
Applied using a brush, the grease instantly transfers onto the thieves hands and clothing and can then be scanned using UV detection equipment.
PCSO Laura Denathorn said the new method was a "strong deterrent".
The marking grease is being offered to residents in the town after an increase in metal thefts.
'Not nailed down'
In recent weeks police say there have been several reports of burglars entering the rear yards or gardens of houses in the area and taking brass or copper taps, earthing wire and anything else with a metal content.
Ms Denathorn said: "We have had a number of very successful operations which have helped cut the number of thefts, but there are still too many instances of thieves going into people's yards and gardens and literally helping themselves to anything which is not nailed down.
"The DNA grease is a relatively inexpensive way of marking property and is especially suited for use outdoors.
"We have also issued residents with stickers and notices highlighting the fact it has been used, and these also act as a strong deterrent to thieves".