Vantec Europe to create 230 jobs in Sunderland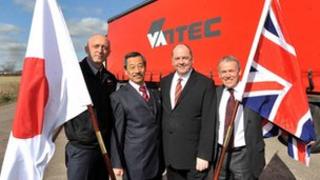 More than 200 jobs are to be created in Sunderland by a warehousing and logistics firm as part of a £22.5m investment.
Vantec Europe is planning to invest in a 421,000 sq ft building at Turbine Business Park.
The firm employs more than 800 people in the north-east of England and said it would create 230 jobs, by 2015.
It was awarded £2.7m from the Regional Growth Fund and the development is part of the Enterprise Zones scheme.
Companies including Nissan, make use of the services the firm offers.
'Vote of confidence'
Martin Kendall, managing director of Vantec Europe, said: "Vantec has a long history of working with Nissan in Japan and here in the UK.
"We have been carrying out critical logistics services for Nissan Sunderland plant since 1990.
"The investment in the new warehouse next to the car plant will support our existing warehouse in Sunderland, and will confirm our position as the largest supplier of critical logistics to Nissan Sunderland plant."
He said the new warehouse would handle about 6m plastic and metal containers for Nissan, each year.
Sunderland City Council leader Councillor Paul Watson said: "This is fantastic news for Sunderland and the region.
"Vantec's vote of confidence in Sunderland as the automotive hub of the UK mirrors those of Nissan, Lear and SNOP, which have all announced growth plans this year."