Sunderland cemetery metal theft 'despicable'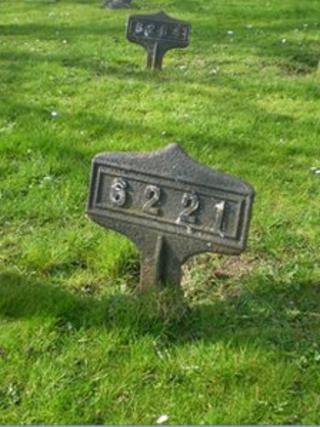 Metal thieves stole 40 grave markers from a Sunderland cemetery on Monday, less than a month after the same site was targeted.
Northumbria Police believe the latest theft happened on Monday night or in the early hours of Tuesday.
Twenty-four cast iron grave markers had already been stolen from Grangetown Cemetery in Ryhope Road on 14 April.
The grave markers, which weigh about 13kg each, were installed to mark grave locations in the 19th Century.
Acting Insp Ged Fairclough of Northumbria Police called the latest theft "despicable" and said the perpetrator had displayed a "complete disregard for their heritage".
"We are working very closely with scrap metal yards throughout the area, and in other areas, to establish whether anyone has tried to sell the markers to them."
Police have pledged to increase patrols in and around the cemetery in an effort to stave off further thefts.
The theft is the third of its kind at Grangetown Cemetery in 18 months.
In July 2011, two men were given suspended sentences after stealing a bronze war memorial plaque from the cemetery in September 2010.