Suspects in £1.8m Durham University museum raid named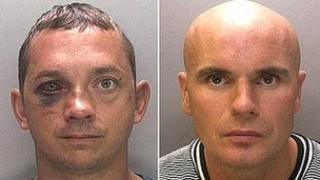 Police have named two men wanted in connection with a raid on a Durham University museum in which artefacts worth almost £2m were taken.
Thieves cut a 3ft wide hole in the wall of the university's Oriental Museum and stole two Chinese objects, a bowl and figurine, worth an estimated £1.8m.
Durham Police said they wanted to trace Lee Wildman and Adrian Stanton, both from the West Midlands.
Mr Wildman is one of five people arrested and bailed over the theft.
During the raid, on 5 April, an 18th Century jade bowl and a Dehua porcelain figurine from the Malcolm MacDonald Gallery were taken.
The items have not yet been recovered and detectives fear they may already have been moved out of the country.
Det Supt Adrian Green said: "We want to speak to these two men about this burglary and they will be able to help us with our inquiries."
Hours after the theft four men, including Mr Wildman and a 34-year-old woman, all from Walsall, West Midlands, were arrested on suspicion of conspiracy to commit burglary. Police later bailed all of them until June, pending further inquiries.
But officers have been unable to trace Mr Wildman who is wanted for further questioning.
Posters have been distributed in the Meadowfield, Brandon and Langley Moor areas of Durham by police in hope of bringing in new information.
Police revealed the gang chiselled through a wall of the museum to get to two separate cabinets containing the bowl and porcelain figurine.
The bowl dates from 1769 and has a Chinese poem written inside, while the figurine is of seven fairies in a boat and stands about 12in (30cm) high. Both are from the Qing Dynasty, China's last imperial dynasty.
Mr Green added: "It was obviously well planned. The criminals went through the wall of the museum and they were going for two items in particular."
He said officers were also looking for three other men who all spoke with London accents and were seen in the museum just six hours before the raid.
They were spotted in the Meadowfield and Brandon areas of Durham before and after the theft.
He also asked for help tracing an orange Renault Megane, a light blue Audi S3 and a BMW 330.
Dr Craig Barclay, the museum's curator, said: "We are extremely upset to have fallen victim to such a serious crime.
"The two pieces are highly significant in that they are fine examples of artefacts from the Qing Dynasty in the mediums of porcelain and hard stone.
"We very much hope that police will be able to recover them and we urge anybody who may have any information about their whereabouts to contact the police immediately."
Police said the last known address of Mr Stanton, 32, was a flat in West Bromwich Street, Walsall.
Mr Wildman, 35, also known as Jason Green or Lee Green, is from Remington Road, Walsall, and is believed to still be in the West Midlands.