Holy Island safety signs had 'positive effect'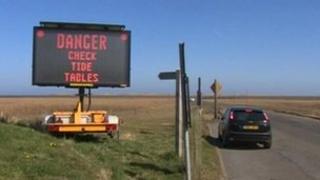 A trial of safety message signs on the Holy Island causeway had a "positive effect" in preventing vehicles from becoming stranded.
The two-week trial, which ends on Saturday, followed concerns raised during summer 2011 after an increase in the number of stranded vehicles.
The two electronic signs were placed on the approach to the causeway to advise motorists of the dangers of the tides.
Some islanders said they did serve a purpose but they were an "eyesore".
One of the signs was placed in front of the lay-by where the tide tables are available to check.
The second was moved to a range of locations throughout the trial to gauge where it had the most impact.
Mike Scott, from Northumberland County Council, said: "I think our initial view of the trial is that it has had some positive effect.
"I think we have got more lessons to learn and more improvements to make.
"It was only a trial and we've have lots of comments... and we want to take all those on board when we put a more permanent solution in place.
"What we want to do is make sure that tourists, islanders, everybody, has the right information about the dangers of the causeway."
The council said it was hoping to install permanent signs in the summer.