Wansbeck Hospital midwives have own baby boom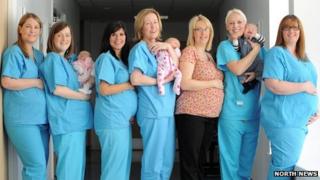 Seven midwives at a hospital in Northumberland have either just had a baby or are currently pregnant.
Three midwives at Wansbeck Hospital in Ashington have already given birth while four more are pregnant with babies due in the summer.
The women say they are all helping each other through what has been an extremely emotional process.
Janice McNichol, head of midwifery, said: "To have so many [pregnant] at once is somewhat unusual."
'Extra special'
Amanda Johnson, Suzanne Whittaker and Sarah Scott have already given birth, while Jenny Gregory, Laura Radford, Louise Slater and Paula Hawkin are all expecting.
Also expecting summer arrivals are consultant Elaine Simpson and secretary Joanne Linley, bringing the hospital's overall new arrival total to nine.
Mrs McNichol said: "There's a real buzz of excitement for those that have had their babies and those who are expecting.
"It's nice for the ladies that come into the unit to actually say that our midwives are pregnant too and can relate to how they're feeling and how they are going to feel.
"We deliver babies every day in our busy maternity unit however it's extra special when it's our colleagues giving birth.
"Given the nature of our workforce it's not uncommon to have one or two of our staff who have just given birth or are pregnant at the same time however to have so many at once is somewhat unusual."
'Different stages'
Jenny Gregory, from Seghill, is expecting her first baby on 7 July and she will give birth in Wansbeck Hospital.
Although it will be her first child, she cannot remember how many she has delivered in her career.
She said: "Over the years you lose count, probably hundreds, you have to deliver 40 before you can even qualify as a midwife.
"The atmosphere is fantastic and we all feel so blessed to be going through this experience together.
"I'm in the same position as many other first-time mums, but it's lovely to have the support of your colleagues and the management and to have everybody on hand to give you support. We're fortunate in that respect.
"I think childbirth can be a very vulnerable time for women, you need support around you and I think to go somewhere where your friends and your family are must be hugely advantageous for us."
Louise Slater, a midwife at the hospital, is about to have her second baby said she did not know why there was a baby boom.
She said: "I think everybody is wondering, who knows.
"We're all at different stages of our lives, some are having their first, some are second, some are third, it's just life."