Elected mayor for Newcastle? Pros and cons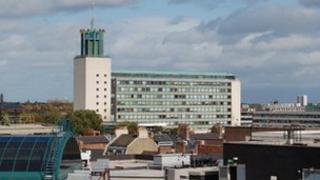 On Thursday, people in Newcastle will have the chance to decide whether the city should have a directly elected mayor.
If given the go-ahead, the successful candidate would put forward major policies and a budget, which could only be voted down by more than two thirds of the council.
Supporters say it would be more democratic and good for business.
Opponents say it would be expensive and risk "personality politics".
Under the current Newcastle City Council system the leader is elected by the council for a period of up to four years and can be voted off if he or she no longer has the support of the majority of the other 77 councillors.
Under the elected mayor proposals, the chosen candidate would hold office for four years and could not be removed by the council.
'Creating jobs'
Brian Moore, one of those behind the "Yes" campaign, said: "At present 80 people vote for leader of the council. With an elected mayor this would be 207,000, so it's a big difference.
"However, more importantly for cities like Newcastle, the local authority is not charged with creating jobs.
"Over the last 30 years Newcastle has seen a significant rise in unemployment, with many young people leaving the area to get jobs. Mayors are elected on a completely different agenda, and one elected on a mandate of job creation would force council officers to have the same policy.
"Of course, people might want a different issue addressed, such as rejuvenation of council estates, but whatever it is it would be the people's choice. If the mayor didn't deliver they'd get voted off."
David Faulkner, co-organiser of the "No" campaign, said: "Technically, the mayor would have a lot of powers, which is not very democratic. It's like turning the city council into a banana republic.
"It seems to play towards personality-style issues. In London you've Boris [Johnson] and Ken [Livingstone] slagging each other off. We don't want that kind of thing up here.
"It's also going to cost a lot more for no benefit that I can see, why try and fix something that isn't broken. As for jobs, city deals have been offered to major regional cities whether they have an elected mayor or not."
Mr Moore said it would give Newcastle a "seat at the top table", with the elected mayor meeting the prime minister at least twice a year. Mr Faulkner said that this was not very democratic.
On Friday afternoon, it will become clear which position the people of Newcastle agree with.