Sunderland College staff balloted over '£10,000 salary cut'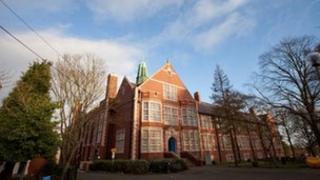 Lecturers at Sunderland College will vote on strike action over plans to reduce their wages by more than £10,000 a year.
Some 150 lecturers could see their salaries cut under proposals which are the subject of ongoing negotiations.
The college announced 36 job losses in March in an effort to save £2.26m as government cuts eat into its budget.
A union official decried the "punitive" plans, accusing the college of trying to "deliver teaching on the cheap".
The potential cut in pay has arisen with the college floating the idea of reclassifying 150 full-time lecturing positions as associate teacher posts.
A full-time lecturer's position carries a salary of around £35,000 while associate teachers have fewer responsibilities and are paid £24,700.
'Disproportionate'
Iain Owens, regional officer at the University and College Union (UCU) which is balloting members, said the wage cuts proposed by Sunderland College were "completely disproportionate".
He added that some of those in line to lose out have been lecturing at the college for more than 20 years and had been responsible for its academic success.
"This affects their pension, which is dependent on their final salary, so this pay cut will affect them until the day they die.
"Large numbers of our members will not be able to pay their mortgages, they will have to sell their homes," he said.
Nigel Harrett, vice principal of curriculum and student support at Sunderland College, said the college had "started from a worst case scenario", as it explored ways of cutting its budget.
He said it was highly unlikely that 150 lecturers would be affected, and that those who were would lose £9,042 gross rather than the £10,000 figure cited by the union.
"Sunderland College is disappointed by the strike ballot as it is early days in the process and the whole point of the 90-day consultation is to talk to our staff and find the best ways of making these savings," Mr Harrett added.
The ballot over strike action is due to close on 18 May.